Starting in September 2012, English proficiency requirements have been increased for those seeking to work in and immigrate to Canada. Today, Canadian employers are offering more job opportunities to residents of the Philippines, Germany, Asia and South America taking into consideration the fact that such countries have a greater number of English speakers than does Ukraine.
Language gaps between employer and employee due to the latter's lack of proficiency in English hinders Ukrainian skilled workers in their ability to show off their excellent practical skills. As a result, ILC recommends to those willing to live and work in Canada that they improve their language competence to a level sufficient for passing an interview with a Canadian employer without the help of an interpreter. Such language skills significantly increase an applicant's competitiveness on the Canadian labour market.
As part of such programs, ILC arranges English language courses for participants who have successfully completed an interview with ILC employee. Well-qualified teachers and native speakers who have broad experience in teaching intensive language courses are involved in teaching activities to help ILC candidates master English.
ILC uses modern interactive technologies, audio and video materials, and instructors with extensive experience during the intensive English courses it provides.
The ILC curriculum covers general language knowledge, basic and advanced vocabulary, grammar and professional terminology. Candidates have the option to choose the most convenient way for them to learn the language: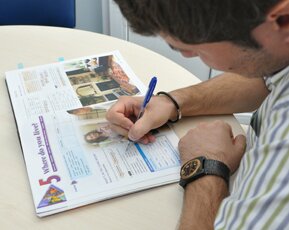 Intensive course (group or individual)
The course includes intensive English courses and covers general language knowledge, basic vocabulary, grammar, professional terminology and IELTS preparation according to the terms of the program. Four (4) classes per day are held in ILC's Kyiv office five (5) days per week. The course takes 3-3.5 weeks, with a total of 144 classes offered. One intensive course costs 5900 UAH.
Language classes via Skype
Language classes via Skype give the candidate an option to learn the language from their homes as long as they have access to the internet. Skype classes cover general English, professional terminology and focus mainly on speaking activities; each course provides a good opportunity to combine individual English learning with simple lessons on Skype. One Skype lesson takes 45 minutes and costs 132 UAH.
ILC creates language courses to suit the individual needs of each candidate. Program study materials include language and exercise books, dictionaries and a professional terminology dictionary developed by ILC teachers that corresponds to each occupation for which the company actively seeks applicants.
For all program participants, ILC also offers free language skills testing.
Video
Pavel, a floorhand, tells about his expectation of Canada
Truckdrivers Andrey and Petro tell about importance of English for work
English class with native speaker