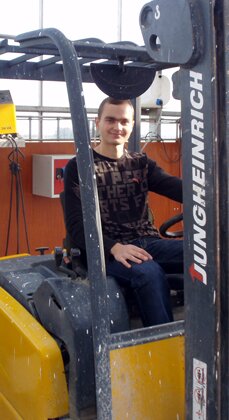 Starting in 2000, ILC has assisted young Ukrainians in their quest to join IRWE, a agricultural exchange program in Sweden. More than 300 young specialists have acquired experience in Swedish agricultural enterprises, as the program offers a unique opportunity to gain experience in the agricultural sector of one of the most developed countries in the world. Areas of training include agriculture and cattle breeding.
To participate in this program, applicants must meet the following requirements: be 19-29 years of age; have an education in agriculture (the ability to drive a tractor is an advantage); have at least one (1) year of practical experience in their intended occupation; speak a high level of conversational English; have no previous violations as regards work visas and/or record of having been deported; and, have no criminal record or any health problems.
The program entails the following: spend a six (6)-month internship in one of the areas of training: crops or livestock; 8 working hours per day, 5-6 days per week; and, two (2) days of paid holidays per month. Each intern is free to choose where they will live during their internship: either in individualized rooms on the farm or rent housing independently. Food can be either the responsibility of the participant or of the farmer and his/her family based on previous mutual agreement with respect to a fixed deduction from the salary of the participant. Average salary is EUR 800 (after taxes), with overtime hours paid in accordance with the conditions defined by the terms of the contract.
Documents required for citizens of Ukraine

Please follow the link to view the list of documents required for participation in one of the programs....

Read more

Please follow the link to view the list of documents required for participation in one of the programs. At different stages of the program, an applicant may be requested to provide additional documents. Applicants will be informed about any such details by ILC staff.

Photocopy of domestic passport (pp. 1, 2 & page with registration stamp ).

Photocopy of ID code.

Photocopy of international passport (p. 1 + all pages with any stamps).

Photocopies of education certifying documents: diplomas, certificates, licenses, etc. (apart from secondary education certificate).

Photocopy of Ukrainian labour book: all pages with records. If the applicant is officially employed at present, s/he must bring a photocopy of his/her labour book certified by the personnel department of the company for which s/he works.

Photocopies of other documents confirming the applicant's work experience: work and character references, contracts, Private Entrepreneurship certificates, etc.

Eight (8) colour passport photographs (the frame size of which must be at least 35 mm x 45 mm (1 3/8" X 1 3/4") and taken against a plain white background. The photographs must show the full front view of the head, with the face in the middle of the photograph). Note that passport photographs can be taken at the ILC office for an additional fee.

Hide

Program stages

Note: it may take 6-8 months from the initial interview with an ILC staff member to departure by the applicant for the host farm....

Read more

Interview with ILC staff member and English language proficiency test.

Interview with IRWE representative.

Signing of job offer.

Preparation and submission of visa documents and search for a farm suitable for an internship placement.

Confirmation received from the farm as regards the internship.

Departure of the participant for the host farm.

Note: it may take 6-8 months from the initial interview with an ILC staff member to departure by the applicant for the host farm.

Hide