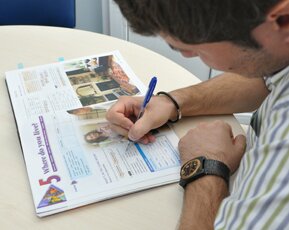 To support international employment and/or immigration programs, the International Labour Centre organizes foreign language training courses for its candidates. The curriculum covers general conversation topics, from basic to advanced vocabulary, professional terminology and grammar.
We also cooperate with language schools in other countries, to be able to carry out the language exams in our Kyiv office. ILC conducts language testing of its candidates and can certifiy the candidate's level according to the Canadian Language Benchmarks (CLB) assessment rating system thanks to an agreement with the Saskatchewan Institute of Applied Science and Technology (SIAST).
Since we know and understand that each person has their own language learning preferences, we offer various options for language courses:
Intensive language courses for candidates are conducted in our office in Kyiv, Ukraine. The total duration of one course is four weeks with 6 hours of class per day.
Online language courses on ILC's web-based platform. Candidates study the foreign language online, completing exercises and assignments that are sent to the assigned teacher. In addition, candidates can contact the teacher online whenever they need further information or help.
Language classes via Skype. Candidates have the option to take language courses with one of our teachers via Skype. Each class lasts 45 minutes and candidates can combine this way of learning with self-study or distance learning.
We provide the educational materials needed for learning the language: study books, manuals, dictionaries, phrasebooks, and more. Additionally, candidates receive glossaries with work-related terminology, which they will need in their workplace.